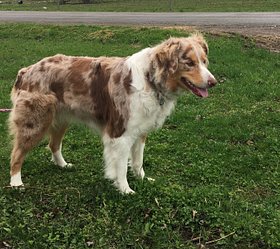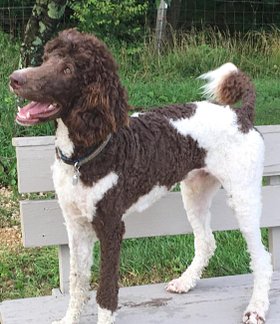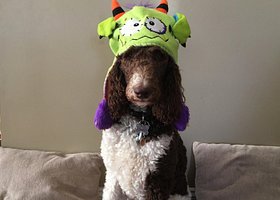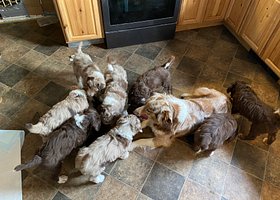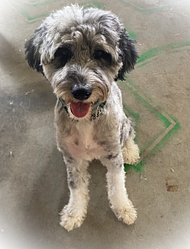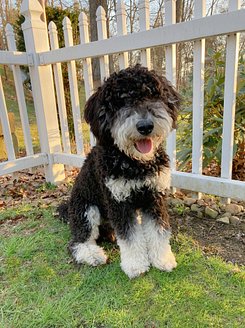 Booker-dad
Small Standard Parti Poodle
-42 lbs
Reese-mom
Red Merle Australian Shepherd
-54lbs
Nala-mom
F1 Blue Merle Aussiedoodle
-40lb
Archie- Sire
Small Standard-35lbs- Phantom
Archie is the sweetest little guy. He willl be a new stud we are adding to our program. Archie loves long walks and loves,loves, loves people and attention. This silly guy will steal your heart. Archie loves to run and play in the back yard and then curl up next to you on the couch!! There is a reason his AKC name is Archie Boys Charm!!
Reese is my girl and she does Everything with our family, she thinks she is human!( Only slightly spoiled) She is a NSDR Red Merle Australain Shepherd weighing 54lbs. She is so sweet, smart and calm. She is such a great mama and wants to be at my side at all times!! 2 of her previous puppies Levi & Jessie are certified therapy dogs through Therapy Dogs United . A few other puppies are currently in training to become therapy dogs.
Nala is such a sweet girl as well. She is in our Guardian Home with a very close friend so she comes to visit often to play. Nala is such a sweet goofy girl with the Aussie Wiggle Butt. She LOVES to play catch or hang out on the couch with the family. Nala is a F1 Blue Merle Aussiedoodle weighing 40 lbs. Nala is currently in therapy dog training.
Booker is a sweet, calm fun loving guy. He is our stud that we use and are very happy with his puppies. Booker's sister is a seizure response dog and mom is a therapy dog. Booker comes from calm lines as well. Booker is a small standard Parti Poodle wieghing 42 lbs. He has the softest curls around.